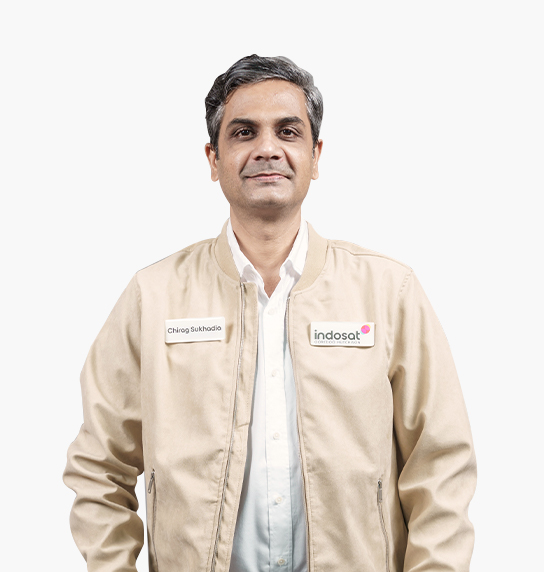 Chirag Sukhadia
Chief Enterprise Data Analytics Officer
Chirag Sukhadia ditunjuk sebagai Chief Enterprise Data Analytics Officer Indosat Ooredoo Hutchison pada Januari 2022.
Pengalaman
Selama 25 tahun terakhir, Chirag telah berkembang pesat di dunia korporat di 3 negara dan organisasi global, sebagian besar di sektor Telekomunikasi.
Vice President - Strategic Business Planning Hutchison 3 Indonesia (2011-2021). 
Group Head of Business Planning & Analysis Maxis Berhad, overseeing Malaysia, India, and Sri Lanka operations (2006-2011). 
Airtel (2005-2006). 
Hutchison Telecommunications (India Operations) (1999-2005). 
Hoffland Finance & Ashima Textiles (1996 to 1999)
Riwayat Pendidikan
Bachelor of Science (jurusan Matematika) dari MSU, Vadodara, India (1991-1994), diikuti oleh Magister Administrasi Bisnis (jurusan Keuangan) dari Prestige Institute of Management & Research, Indore, India (1994-1996).