Wednesday, 11 May 2022
Tri Presents the Latest Digital Innovations to Meet Customer Insurance Needs with Bima Asuransi Services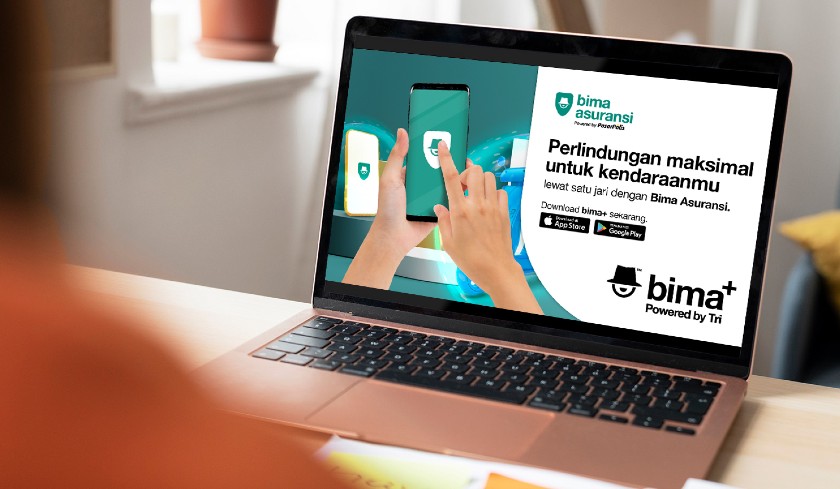 Jakarta, 11 May 2022 – Indosat Ooredoo Hutchison (IOH) with a vision to become the most preferred digital telco company in Indonesia, continues to provide digital innovation to meet the needs of its customers. This time, through the Tri brand, IOH launched its newest service, Bima Asuransi in collaboration with PT. PasarPolis Insurance Broker (PPIB) as an affiliate of PT. PasarPolis Indonesia (PasarPolis) which is one of the leading insurance technology (insurtech) companies in Indonesia and Southeast Asia. Bima Asuransi aims to provide convenience for Tri customers in obtaining motorcycle protection at affordable costs and maximum protection through the bima+ application.
Chief Commercial Officer of Indosat Ooredoo Hutchison, Ritesh Kumar Singh, said, "After previously provided an exclusive digital cash loan service, Bima Kredit, this time we are launching the latest digital innovation for Tri customers as part of the bima+ ecosystem, namely Bima Asuransi. Bima Asuransi can be a solution and ease Tri customers to get vehicle insurance services at affordable prices. We hope this service can increase customer awareness regarding insurance solutions in Indonesia."
PPIB as an insurance brokerage company and PasarPolis as an insurtech company offer motorcycle insurance products in collaboration with Jasa Raharja. Tri prepaid and postpaid customers who wish to register must ensure that their Tri number has been registered and validated. Furthermore, customers can access the bima+ application and choose the Bima Asuransi service. Customers who can use this service are those who are 17 to 60 years old. Customers who can use this service are customers who already have a driving license (SIM) and vehicles that are not more than 10 years old. After the conditions are met, the customer will be asked to pay the cost of the insurance premium of their choice and agree to the terms and conditions that have been determined by Tri and the insurer.
Following the premium payment, the purchase of insurance will be forwarded to the insurer automatically, and the customer will be sent an e-Policy to the email that the customer registered. This E-Policy can be used by customers to submit a protection claim to the related insurance party. The process of using insurance protection can be done directly through https://policies.pasarpolis.io/.
For TLO (Total Loss Only) Motorcylce insurance products, Tri customers will be charged IDR 50,000 with a 12-month protection period. Tri customers will get various types of cost compensation such as:
Pass Away, amounting to IDR5.000.000,-
Burial fee, maximum IDR500,000,-
Permanent Disability, maximum IDR5,000,000,-
Loss of Vehicle, amounting to IDR2,000,000,-
Maintenance fee, maximum IDR 500,000,-
Liability to third parties, amounting to IDR500,000,-
In the future, Tri will also complement Bima Asuransi's services with personal accident insurance products and other motor vehicle protection solutions. Supported by Tri's broad and strong 4.5G pro network, now accessing insurance needs is easier through the bima+ application. To find out the terms, conditions and complete information regarding Bima Asuransi, customers can visit the tri.co.id/Bima-Asuransi or by accessing the bima+ application which can be downloaded via Google Playstore and AppStore.