Wednesday, 16 March 2022
IM3 Brings the Spirit of Collaboration to Bandung Through Collabonation Creative City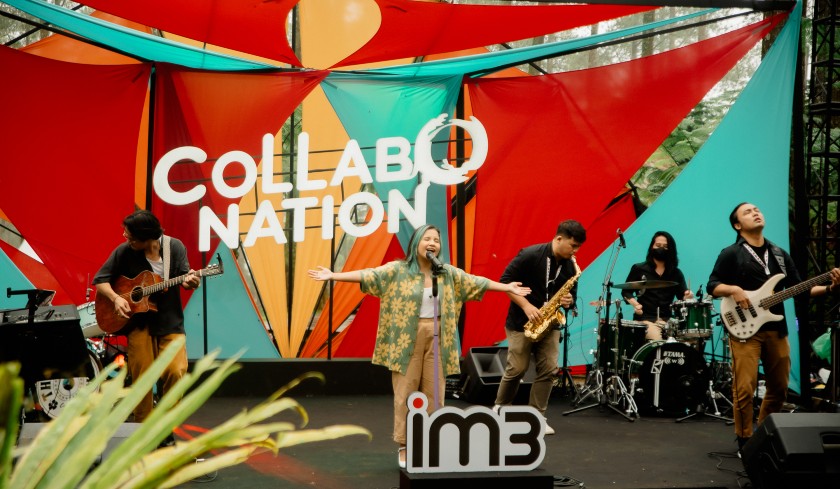 Bandung, March 16, 2022 – After successfully finding solutions to various creative issues in previous cities, namely Makassar, Medan, and Malang, IM3 continues its Collabonation Creative City journey to Bandung to bring new enthusiasm through a series of creative sessions. These events will involve communities and the younger generation to assist them to move forward and continue to be creative in their art.
IM3 initiated Collabonation as a platform for musicians and artists to collaborate and produce positive multidisciplinary works of art. Continuing the same mission and spirit, Collabonation Creative City was created to open new collaboration opportunities by enriching and empowering art activists and creative workers in channelling their talents and creativity.
Fahroni Arifin, SVP–Head of Brand Management & Strategy Indosat Ooredoo Hutchison says, "Bandung is a city that has given a home to numerous various artists, especially musicians with strong identities and characters. Understanding this background, Collabonation Creative City collaborates with several mentors to support and equip Bandung's creative communities and the younger generations' passion in the arts and music with knowledge on how to create and maintain their characteristics. This will help them to increase the value of their band/musician to strengthen themselves as well as the current creative ecosystem."
Carrying the spirit of "Reconnecting with Bandung's Music Energy'', Collabonation Creative City Bandung held a series of collaborative activities through creative sessions to exchange ideas and insights with the theme Building Strong Band Character and Identity. These creative sessions will be moderated by Kiki Ucup and mentored by experts, starting from Anton Ismael (Visual Director), Arian13 (Musician), Riandy Karuniawan (Visual Artist), and The Panturas, a contemporary surf rock group from Bandung known to have a strong character, to participate as the case study for the workshop. In addition, selected participants involved during the creative session will also collaborate on designing the limited edition Collabonation x The Panturas box set that will be sold to the public.
Riandy Karuniawan, Visual Artist and mentor at Collabonation Creative City Bandung explains, "A distinctive character needs to be built and maintained through various elements, one of which is how to translate the character of a band/musician into an illustration that can later shape, support and strengthen their identities. Hopefully, Collabonation Creative City Bandung will be able to enrich their knowledge in the future for their work."
The series of Collabonation Creative City Bandung activities will be completed with Intimate Gigs, featuring Hindia, Idgitaf, The Panturas, Oscar Lolang, and the Syarikat Idola Remaja. This Intimate Gigs are a celebration of the warm collaboration between Bandung musicians, creative activists, invited VIPs, and the community in the city of Bandung. In its implementation, the entire Collabonation Creative City Bandung process applies strict health protocols (swab test & sterilization) and complies with applicable permits and policies.
Fulfilling the Digital and Communications Needs of Youths
As a brand that is committed to continuously providing communication services that suit the needs of the younger generation, IM3 provides Freedom Internet packages with various quota options, to allow consumers to stay online for 24 hours, anywhere and anytime without any worries. The Freedom Internet packages is accessible through the myIM3 application, *123#, and at the nearest Indosat Ooredoo Hutchison partner/outlet.
"We hope that Collabonation Creative City can be an inspiration for other cities to continue carrying the spirit of collaboration by bringing creative activities from various disciplines to life," Fahroni enclosed.
Collabonation Creative City Bandung's series of activities will be broadcasted on the IM3 YouTube channel as a source of inspiration for the younger generation to stay creative and continue producing better works.