Friday, 18 February 2022
Encouraging the Important Role of Women in Tech, Indosat Ooredoo Hutchison Succeeded to Empower More than 1,500 Indonesian Women Through SheHacks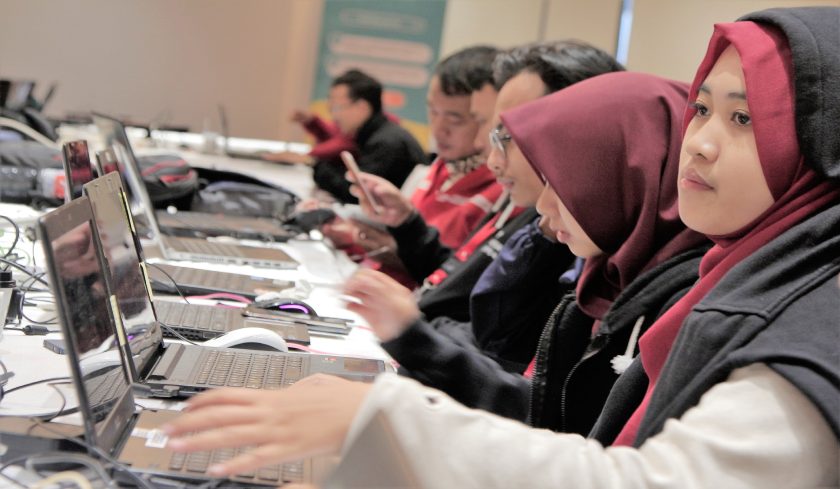 Jakarta, February 18, 2022 – Indosat Ooredoo Hutchison, the most preferred digital telco of Indonesia, is committed to continuously empowering Indonesian women with the power of digital technology and reducing the gender gap by leveraging various innovations in women's economic, education, and health through the SheHacks program. The program has succeeded in empowering 1,548 Indonesian women since it was first launched in October 2020 until the completion of its final program in December 2021.
SheHacks 2021 recorded 1,453 participants throughout Indonesia ranging from 15 to 40 years old and received 477 problem-solving proposals. This achievement shows a significant increase from the previous year with a total of 95 participants and 30 submitted proposals. The reach of SheHacks 2021 is also wider than 2020, as 23% of the total participants come from outside of Java Island. A total of 12 webinar sessions were held this year through various digital platforms which have been watched nearly 12 thousand times, up almost 4x compared to last year.
SVP-Head of Corporate Communications of Indosat Ooredoo Hutchison, Steve Saerang, said, "We really appreciate the enthusiasm of more than a thousand inspiring Indonesian women who have shown extraordinary ideas and creations in SheHacks 2021. In line with our long-term commitment to deliver world-class digital experiences by connecting and empowering every Indonesian, including women, SheHacks presents as one of our flagship Corporate Social Responsibility (CSR) programs under the Women's Empowerment pillar. Seeing the spirit of Indonesian women in finding the right solution to overcome real-life problems through technology, we believe that women will play an important role in the digital technology sphere to support the nation's advancement in the future."
SheHacks 2021, in collaboration with global organizations such as the United Nations Development Program (UNDP), UN Women, and GSMA Connected Women, organized various programs including a series of webinars for knowledge-sharing on technology and women empowerment from the influential figures for the participants and public, mentoring and strategic partners sessions for the finalists, until buddy program for the top five finalists.
The mentoring session was aimed to help the finalists sharpen their solutions in preparing their final pitch, along with a number of mentors for different topics, namely Reza Rizky Darmawan (Co-Founder & CEO of POST.app) for problem and solution fit topic, Dina Kosasih (Founder Oihub) for customer validation topic, Dina Dellyana (Director of the ITB SBM Business Incubator) for BMC and lean canvas topic, and Leonika Sari (CEO of Reblood) for prototyping topic. Furthermore, the strategic partners sharing sessions were aimed to provide in-depth knowledge on women-surrounding issues, including the use of technology by women to promote entrepreneurship and family welfare, women's access to quality education, and women's rights to reproductive health services. This session involved many influential figures, including Iriantoni Almuna (Program Lead Women's Economic Empowerment, UN Women Indonesia), Dominica Lindsey (Senior Director GSMA Connected Women), and Lady Diandra (Youth Co:Lab Indonesia Focal Point UNDP).
SheHacks 2021 also involves qualified judges in the industry, namely Haryati Lawidjaja (CEO of LinkAja), Faye Wongso (CEO & Founder of KUMPUL), Dayu Dara Permata (CEO & Founder of Pinhome), and Dwi Faiz (Head of the UN Women Indonesia Program). The Best Three Winners selected by the judges succeeded to receive cash prizes totalling IDR 100 million, and the Top Five Finalists chosen also managed to get the opportunity to connect with the right global stakeholders to actualize their solutions through development until funding in a 4-months buddy program, from September to December 2021. The Top 10 Finalist also got a chance to present their innovation proposal to several global venture capitals member of AVPN (Asian Venture Philanthropy Networks).
In addition, SheHacks 2021 also successfully organized the 'Shop-for-a-Cause' program, in collaboration with Rubylicious and the Indonesian Coalition to Prevent Cervical Cancer (KICKS), to encourage Indonesian women to support other women fight against cervical cancer. Of the more than 1,300 pink items successfully sold at Rubylicious' official website and offline stores, 10% were automatically converted to donations for KICKS to support cervical cancer patients staying at the Cancer Information and Support Center (CISC) shelters.
"We hope that the SheHacks program can continue to encourage the realization of innovative creations from Indonesian women in improving people's quality of life through digital technology. We believe that women can create impactful changes, not only for their surrounding environment but also for the wider community," concluded Steve.
For more information on SheHacks 2021, click here.