Thursday, 31 March 2022
IM3 Invites the Young Generation to Celebrate the Spirit of #KembaliSilaturahmi during Ramadan with Big Quota from Freedom Internet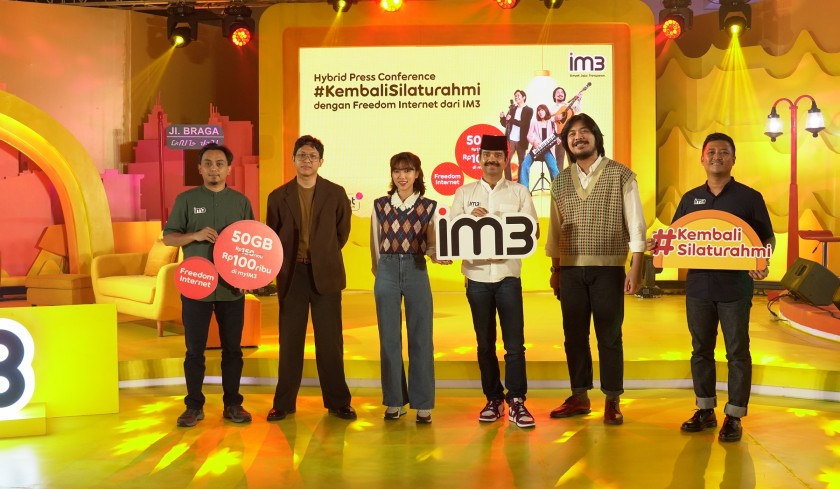 This Ramadan, enjoy precious moments of being reunited with your loved ones with a big quota from Freedom Internet and free voice calls to fellow IM3 and Tri users.
Jakarta, March 31, 2022 – For the past two years, we have celebrated the Ramadan period with many limitations. This year, the Indonesian people can finally be able to meet face to face to celebrate Ramadan and get reconnected with their friends and families. Welcoming the festivities with joy, IM3 presents the #KembaliSilaturahmi campaign that invites the Indonesian people, especially the young generation, to reconnect and strengthen their relationships with the people closest to them.
As a brand that continues to provide convenience in telecommunication and digital services, IM3 presents the Freedom Internet on Sensasi Ramadan promo. The package comes with a big quota of 50GB and free voice calls to fellow IM3 and Tri users at the price of Rp100,000 (the normal price of Rp150.000). With this package, IM3 is showing its support to all consumers to carry out their activities during the month of Ramadan, as well as enjoy their favorite entertainment content with the best internet experience quality.
Chief Commercial Officer of Indosat Ooredoo Hutchison, Ritesh Kumar Singh, said "For Ramadan this year, IM3 is showing its support, especially for the young generation in Indonesia, to celebrate #KembaliSilaturahmi together after the previous year's festivities celebrated with limitations. As the brand for young people, we are fulfilling their communication and digital needs during the month of Ramadan through the Freedom Internet package with a big quota of 50GB. We hope that this offer will be able to uplift their spirit of reconnecting with their friends and families during this festive season."
To strengthen the spirit of the #KembaliSilaturahmi campaign, IM3 collaborated with several young musicians to present a song titled "Alunan Temu" which was composed by Iga Massardi, Bilal Indrajaya, Vega Antares, and Enrico Octaviano. The song, which is performed by Isyana Sarasvati, Hindia, and Bilal Indrajaya, expresses the spirit of joy felt by the Indonesian people because they can finally meet again to connect. That same feeling was also felt by the musicians when they first met to collaborate for this campaign. What makes this song unique is that the instruments are played with the sound of the musicians' hearts beating as a form of depicting the feeling of happiness to be reunited with those closest to them
The #KembaliSilaturahmi campaign also supported with a video launch illustrating the joy of three friends who were finally able to meet and get in touch after being apart for quite some time. These characters also described the new target segmentation of IM3 users, the younger generation who are more mature and always want to connect with the people closest to them.
In addition, during the month of Ramadan, IM3 will be setting up Zona Ramadan IM3 #KembaliSilaturahmi and organizing the 'visit outlet' program (SIDAK IM3) in several cities in Indonesia such as Jakarta, Bandung, Semarang, Yogyakarta, Surabaya, Medan, to Makassar to interact more closely with its customers. At the peak of the celebration, IM3 will be holding a Ramadan concert to celebrate the opportunity and rekindle our relationships with our loved ones.
Through the simple and transparent Freedom Internet package, during the month of Ramadan, customers will be able to reconnect and stay online for 24 hours using 100% of the main quota without having to worry about their credits being used when their quota has run out as the package is equipped with Pulsa Safe. The Freedom Internet package provides a big quota of 50GB and free voice calls to fellow IM3 and Tri users with a value of Rp100,000. The package can be easily purchased on the myIM3 application, or by accessing *123#, IM3 Official WhatsApp (08551000185), e-commerce, convenience store, and the nearest outlet.
For further information on Freedom Internet with a big quota of 50GB with the value of Rp100,000, please visit im3.do/freedominternet.