Saturday, 5 February 2022
IM3 Ooredoo Sparks the Spirit of Collaboration by Launching Collabonation Creative City in Malang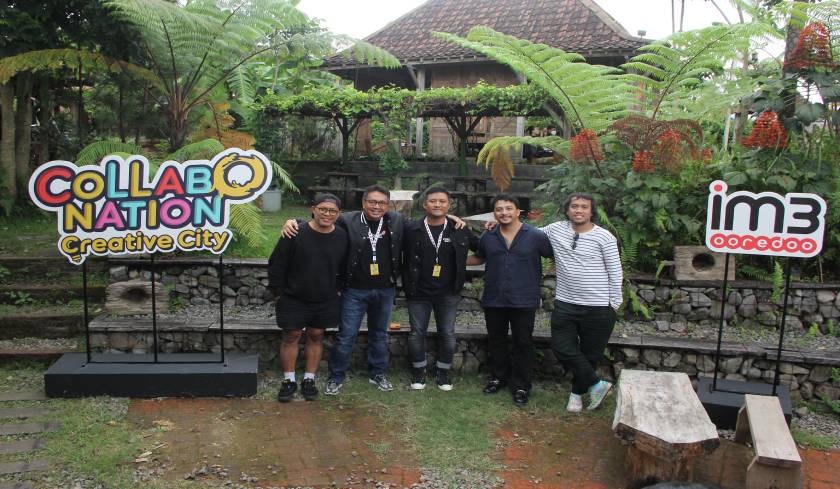 Malang, February 5, 2022 – IM3 Ooredoo's Collabonation Creative City is an initiative for Indonesia's youth and local communities to collaborate, discussing various topics towards finding unique creative solutions in each city. Having achieved great success in Makassar and Medan, IM3 Ooredoo is now launching Collabonation Creative City in Malang, hosting new and exciting activities, such as creative sessions, which will support the creative growth of the city's next generation.
Collabonation was first introduced in 2019 by IM3 Ooredoo as a platform for musicians and artists to collaborate and produce various works of art, including multidisciplinary collaborations. Collabonation Creative City was introduced to further strengthen its commitment to create new collaboration opportunities through equipping, enriching, and empowering artists and creative workers in channeling their talents and imagination.
Fahroni Arifin, SVP – Head of Brand Management & Strategy Indosat Ooredoo Hutchison explained, "We believe that Malang has great potential, which is why it is the next destination to host Collabonation Creative City. Through this initiative, we want to help the youths and other creative people here who have lost opportunities to stay creative and find creative solutions to the various challenges and issues that were caused by the pandemic."
Collabonation Creative City Malang will be different compared to the previous cities. Using the theme "Let's Bring The Gigs Back to Malang", the initiative will bring in fresh ideas and activities through creative sessions & mentoring with the themes of "How Gigs Can Unite People Together" and "Visualize your Gigs in a Different Way", which will be hosted by experts in the creative & music industry, namely Kiki Ucup (Music Festival Creator), Anton Ismael (Visual Director), and Sal Priadi, a local artist whose journey can be used to inspire the youth and communities in Malang.
In addition, Collabonation Creative City Malang's series of activities will be complemented by intimate gigs, to further ignite the spirit of the city's youth, as well as uplift and encourage Malang to rise up and be productive again. Complying with the government's health policies, all processes and activities of Collabonation Creative City Malang will go through strict health protocols (swab tests and sterilization) with approved permits provided by the local government.
Kiki Ucup, Music Festival Creator and mentor at Collabonation Creative City Malang added, "There are so many undiscovered hidden potential talents in Malang. With that in mind, the series of activities at Collabonation Creative City Malang seeks to help them enrich their knowledge, that can be implemented at a later stage."
To ensure impactful results of the collaboration, selected participants from the creative sessions are given the opportunity to be directly involved in IM3 Ooredoo's intimate gigs, which will present local musicians such as Coldiac, Wake Up, Iris!, Iksan Skuter, as well as other well-known musicians such as Sal Priadi and a Secret Performer, Pamungkas. This opportunity will allow them to gain further experience by collaborating with experts in the music and creative industries.
Fulfilling the Digital and Communications Needs of Youths
Committed to providing communication services suitable to the next generation's needs, IM3 Ooredoo presents the 2.5 GB Freedom Internet plan, which is valid for 5 days at a very affordable price of IDR9,900. This internet package is perfect for youths who need continuous internet access to upload their creative work, enjoy content from various platforms, explore new things online, and connect with their peers. The 2.5GB Freedom Internet/5 days plan is accessible through the myIM3 application, *123*112#, IM3 Ooredoo Official WhatsApp (08551000185), and at the nearest Indosat Ooredoo Hutchison Outlets/Partners.
"We hope that Collabonation Creative City Malang will be able to spark the spirit of collaboration among the city's youths to revive their creative activities and be an inspiration for other cities," Fahroni concluded.
Collabonation Creative City Malang's series of activities will later be broadcasted through the IM3 Ooredoo YouTube channel to continue to inspire the spirit of collaboration within the youths of Indonesia.