Thursday, 5 May 2022
Successfully Anticipating Rise in Digital Teleco Needs, Indosat Ooredoo Hutchison Recorded the Highest 27% Increase in Data Traffic During the 2022 Eid Festive Period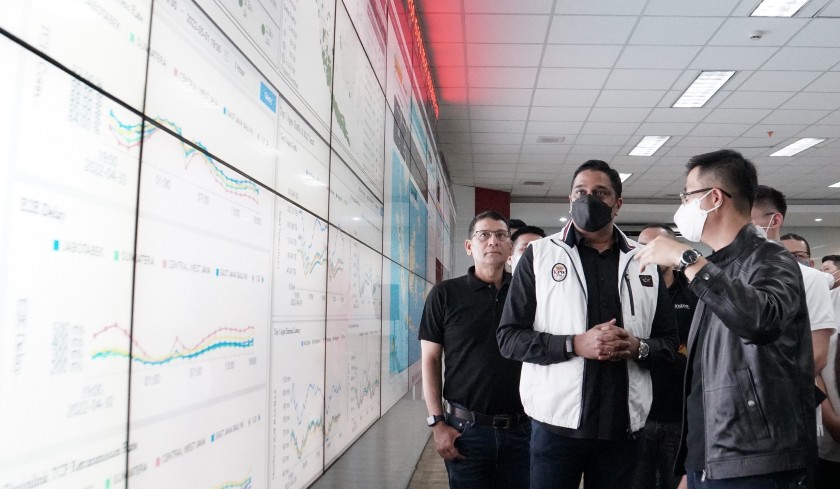 Jakarta, 5 May 2022 – Indosat Ooredoo Hutchison (IOH), with its vision to become the most preferred digital telecommunications company in Indonesia, has managed to maintain good network performance in anticipating the digital telecommunications needs of its customers during the Eid 2022 festive. In this holiday season, IOH recorded the highest daily data traffic growth with an increase of 27% on April 29, 2022, compared to the same period last year, of which around 97% can be served on the 4G network. On the other hand, the quality of other basic telecommunications services such as telephone and SMS was maintained at the highest level. Several MOCN (Multi Operator Core Network) sites also provide a better experience for customers' indoors digital activities.
SVP-Head of Network Operations of Indosat Ooredoo Hutchison, Agus Sulistio, said "This Eid is our momentum to accelerate the network integration process and we are pleased to be able to provide a better customer experience during the Eid holiday, despite the high data traffic spike. This is inseparable from the hard work of the entire IOH team and our partners in the field, who have succeeded in anticipating and ensuring the availability of services for all customers."
Indosat Ooredoo Hutchison also recorded a 13% increase in data traffic during the Eid holiday compared to normal days this year. Supported by statistical data during the previous Ramadan and Eid, IOH managed to anticipate a significant increase in data traffic in several destination cities and homecoming routes on Java, such as Cirebon, Tasikmalaya, Tegal, Madiun, Tuban, Serang, and Sukabumi. Data traffic was also recorded to have increased quite high in several other cities outside Java, including in Lampung, Padang, Pontianak and Parepare.
Indosat Ooredoo Hutchison can also anticipate dynamic customer mobility movements and increased telecommunications traffic through the application of an Artificial Intelligence/Machine Learning (AI/ML)-based digital operation model and automation that has been implemented since 2020. It was recorded that the use of mobile gaming services increased by 25%, social media rose 15%, messaging and video calls rose 43%, and video and music streaming rose 19% compared to normal days and Eid last year.
YouTube, WhatsApp, Facebook, TikTok, and Instagram are still the most widely used applications by Tri and IM3 customers during the Lebaran holiday this year, including the use of online game applications such as Mobile Legends, PUBG Mobile, and Free Fire.
Throughout the Ramadan this year, monthly active users (MAU) of bima+ and myIM3 applications also increased by around 3% each compared to the previous month, and remained high during the Lebaran holiday. In addition to meeting basic telecommunications needs, customers also participate in the THR (Tri Hujan Rejeki) program in the bima+ application and the RAMAH (Ramadan Penuh Berkah) program in the myIM3 application. It is noted that user traffic accessing the application also increased by around 34% throughout the month of Ramadan compared to normal days this year. This indicates the trend of using digital service channels that are increasingly widespread by IOH customers in meeting their telecommunication needs.
Several activities to increase network capacity and quality as well as centralized physical Command Center operations have been carried out to ensure Tri and IM3 customers enjoy the best digital experience. Special tools & dashboards for continuous and proactive monitoring of network quality and customer digital experience 24 hours 7 days have succeeded in reducing customer complaints by 29% compared to the previous year's Eid. Not only that, more than 87% of customer complaint tickets were successfully resolved in less than 24 hours.
Customer service through various channels also provides support for resolving problems experienced by customers during the holiday period. Tri and IM3 customers alike can enjoy a smooth communication experience on the 4G network despite the trend of increasing traffic, especially data, which is predicted to remain high during the Lebaran holiday period in the next few days.
"In accordance with Indosat Ooredoo Hutchison's mission to connect and empower the Indonesian people, we hope that the integrated network with the support of the complete IOH digital ecosystem will provide a world-class digital experience to Tri and IM3 customers during the Lebaran holiday this year," concluded Agus.