Thursday, 9 June 2022
Indosat Ooredoo Hutchison to Support Indonesia's Digital Transformation in Mining and Oil-Gas Industry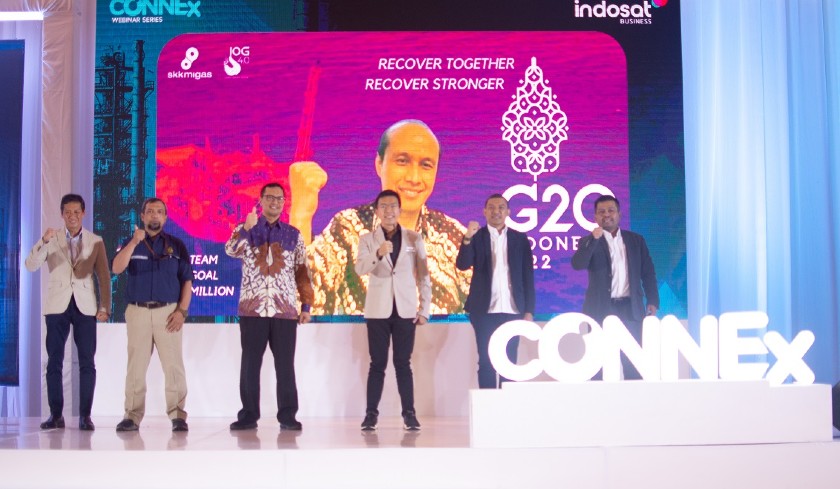 Indosat Business held the Connex Webinar Series to accelerate business efficiency and operational safeness.
Introducing network infra solution in remote area (Private LTE, Managed SD WAN, Managed IT Infra), cloud-based business operation solution (Hybrid Cloud Meet Team Pro), and asset monitoring solution Nextfleet.
Jakarta, June 9, 2022 – Indosat Ooredoo Hutchison (IOH) that visioning to become the most preferred digital telco of Indonesia, through Indosat Business, today held the Connex Webinar Series to accelerate business efficiency and operational safeness in mining and oil-gas industry. Connex Webinar is one of the Indosat Business regular events that bring together the Regulator, Industry Player, and Technology Partner to discuss on how digitalization can improve the productivity.
Chief Business Officer of Indosat Ooredoo Hutchison, Bayu Hanantasena, said: "Indosat Business is consistently organizing Connex event as part of IOH larger purpose, to connect and empower the people of Indonesia by accelerating the digital transformation. On the today's Connex, Indosat Business fully supports the mining and oil and gas sector to allow the production to be monitored in real time and online, thus improving business operations so that they become more efficient, productive, and safe. In addition, we also support the processing and security of company data as a strategic asset to support companies to speed up work processes and decision making."
The theme of this Connex Webinar is "Digital Innovation on Mining & Energy Industry to Improve the Business Efficiency, Productivity, and Safety". The event also discussed how digital technology can create more efficient, accurate upstream mining and energy operations, while taking preventive actions of unplanned shutdowns, pipe leaks and other challenges. The speakers are exchanging ideas and innovations to improve the productivity and effectiveness needed for the sustainability of the business and further will contribute to the Nation's economy.
Director General of Minerals and Coal of the Ministry of Energy and Mineral Resources, Ridwan Djamaluddin, said: "Indonesia is one of the countries with abundant natural resources that need to be well-managed to provide benefits to the people of Indonesia. We believe that with digital technology, business operations can be more efficient and increase the safety of human resource. We appreciate Indosat Business for organizing the Connex, so we can collaborate to bring best solution for our industry."
On this Connex Webinar, Indosat Business introduced solutions related to the mining and oil-gas industry, including:

Private LTE, the deployment of private 4G cellular networks to support business operations and mining and oil and gas activities in areas not reached by cellular signals.
Managed Network (SD WAN) and Managed IT, digital transformation services that can accelerate companies to move towards a hybrid IT model and meet the need for secure, highly agile, and flexible network access at each location of the company's business operations.
Hybrid Cloud, providing faster and more secure global standard cloud services, supported by Indosat's partnership with top global cloud providers that already have Infrastructure Cloud facilities in Indonesia such as Google Cloud.
Cloud Collaboration App, cloud-based application services that make it easier for business users to get office applications, data storage services, and teleconferencing services easily and securely.
IoT Asset Management, IoT technology solutions for asset management use mobile applications and IoT devices to create more efficient operational costs and more effective monitoring of enterprise assets with the support of data and cloud connection networks.
Click here for more information on Indosat Business Connex Webinar Series 2022.