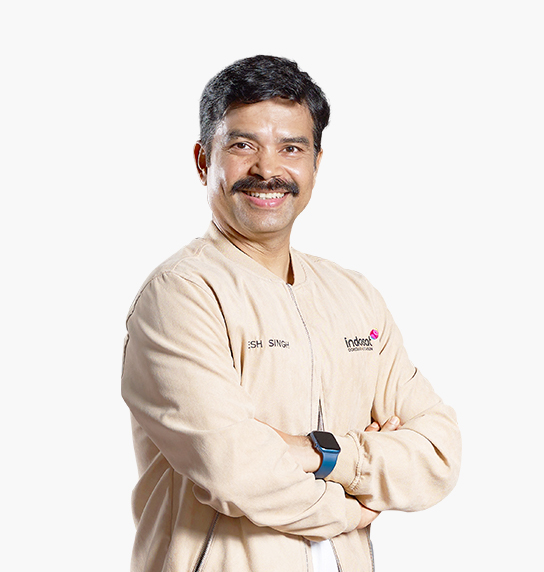 Ritesh Kumar Singh
Chief Commercial Officer
Ritesh Kumar Singh ditunjuk sebagai Chief Commercial Officer Indosat Ooredoo Hutchison pada Januari 2022.
Pengalaman
Beliau memiliki lebih dari 22 tahun pengalaman di bidang komersial & menangani bisnis Telekomunikasi besar sebagai Independent Profit Center Head.
Chief Marketing Officer of Indosat Ooredoo (2019-2021)
Chief Commercial Officer of Indosat Ooredoo (2021)
Chief Commercial Officer at VEON Bangladesh Operations (2017-2019)
EVP and Circle CEO at Bharti Airtel Limited, India (2016-2017)
Head - Strategic Projects Asia Region at Telenor Asia, Bangkok (2014-2016)
Circle Business Head at Uninor (second largest Telenor Circle) (2012-2014)
Circle Business Head West Bengal & Kolkata (2011-2012) - Telenor India
Hub Sales Head Telenor - West Bengal (India) (2009-2011).
Sales Head for West Bengal and Kolkata, Dishnet Wireless Ltd. (Aircel) (2007-2019)
Cluster Head North & Central Kolkata, Senior Manager Sales - Kolkata Circle, Relianca Telecom Ltd (2005-2007)
Zonal Manager - Bharti Cellular Ltd., Gwalior, India (2004-2005)
Riwayat Pendidikan
Meraih gelar Bachelor of Engineering (Electronics & Telecom) dari Amravati University, Maharashtra (1996), diikuti dengan Diploma in Marketing Management dari Narsee Monjee Institute of Management Studies, Mumbai (2000), dan Certificate in Brand Development & Marketing Strategy dari London School of Business (2012).